So, the first thing I want to say is I had such a great time in Redondo Beach! George's family was wonderful and I loved the area. I was going to post pictures, but I haven't gotten around to transferring the pictures from the camera to the computer. Hopefully soon :)
It wasn't much warmer there than it is here, only about 10 degrees difference. It was really odd seeing snow on the Grapevine though! I photographic evidence that
is does snow in Southern California. I've been telling people for, well pre
tty much always, California has normal weather with four seasons, it's not always sunny and warm.
George's family was awesome! They were loads of fun and took me in right away. Apparently George likes to talk about me because they had all heard so much about me, lol. I questioned him on this and his response was "I know this is pretty hard to believe, but I'm CRAZY about you, therefore I talk about you. A lot." Very sweet :) The first people I met were George's uncle and aunt Brett and Angela, then his other uncle and aunt Vic and Jiyoung, and their daughter Livia.
The first stop on Friday once we were together was to In-N-Out. This was quite an adventure. According to Google maps, it was only 7.2 miles from our hotel and seemed pretty straight forward. But It took us almost 45 minutes to get there! We made one accidental turn and had to circle back around, but then we were GOOGLED! This is the term we have come up with to describe when Google maps takes you down a completely dodgy street and the wrong way to get somewhere. In this case we were taken down some back alley behind a trailer park to go down a road that literally did not exist to end up at the In-N-Out, when we could have just gone straight through the intersection in front of us and gotten there just fine. The In-N-Out pictured here is the actual one we went to, but it looks much nicer in this picture. There's really no where to sit inside, but it has a double drive through. I don't mean like McDonald's where they split and go back together. It literally has two separate drive-throughs you can use. That was pretty neat. OH! I forgot the most important part! The reason we went on this trek in the first place was because one of George's aunts had never been to California before and had never had In-N-Out, and his other Uncle hadn't had any since he and his family moved to Italy this past summer. I'm pretty sure everyone was hap
py with their food, at least I hope so after all it took to get there! Lol
For dinner that night we went to the Manhattan Brewing Company, which is located right near the water.
It was a neat little bar with gigantic appetizer portions, but not very friendly service. Our waitress seemed to want to be anywhere else but at our table. We can only assume that because we had a party of 8+ and an 18% gratuity was added to the check automatically, she knew she didn't have to work for it. Here I got to meet George's Uncle Kirk (the groom) and George's grandparent's, Jackie and Dave, or Grammie and Grandpie which is how they were introduced to me. I think if I lived in the area this is somewhere I would go back to, but not with so many people. It would be a fun hang out place.
The next day we went all over. We drove by Brett and Vic's house they grew up in in Venice Beach. Then drove over to the Santa Monica Pier. I had never been there, but it was really neat. There was an original Hot Dog on a Stick and we got the cheese on a stick (delicious!) and some of their lemonade. We saw the historic carousel and walked through the amusement park there. We also found a little place that served these GIANT slices of pizza. I wish we had gotten a picture of that. The sauce was a little sweet for me, but it was still a good deal. From there we headed off to the Getty Villa in Malibu. This is what the website says about it "

The Getty Villa

in Malibu is an educational center and museum dedicated to the study of the arts and cultures of ancient Greece, Rome, and Etruria." It was neat. It was designed as a replica of a traditional roman villa with gardens and everything. It wasn't our original plan though. We were supposed to go to Hollywood, but by the time we went to the Villa and got to Hollywood, it was time for us to go back and get ready for the rehearsal dinner.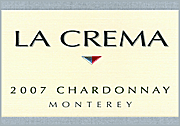 The rehearsal dinner was at a very posh restaurant called Kincaids, right on the Redondo Beach pier. It was very nice. The menu was preset for our party with options for three courses. The wine was also provided. I had tossed baby greens with bleu cheese spring rolls, the a prime rib for the main course with mashed potatoes as the side, and for dessert a slice of key lime pie with a side of lime sorbet. There was no way I could eat it all, but I wanted to! It was delicious. Kirk had also provided the restaurants with sevral bottles of wine, which allowed me to try out different flavors. My favorite was the La Crema Chardonnay.
Sunday we went to breakfast with the family, then went back to the hotel so I could get ready and G

eorge could watch the playoffs :)

I wanted to straighten my hair (which is a very long process) so this gave me the extra time I needed to get it done. The wedding was held at the La Venta Inn in Palos Verdes, CA. It was BEAUTIFUL! They did such a fantastic job in such a short time frame. This is a photo of the indoor dance area. They had the fireplace going all night. It was gorgeous.

Monday George and I finally got to go explore Hollywood! We went to the Grauman's Chinese Theatre, the Kodak Theater, Hollywood and Highland, the Walk of Fame, the mall that's right there and more. It was a lot of fun! They were setting up for the premier of the Green Hornet at the Chinese theatre. They had long rolls of green carpet with a white hornet on them and all kinds of stuff. I'm convinced one of the large trucks outside had the actual car in it, but I didn't get to see it myself. After we were done there, we headed out of town for some of our favorite food, Taco Bell!!!, and then were on our way home. All in all I say it was a great trip.